Embarking on the journey of building a coaching business is both exhilarating and challenging. With a plethora of advice bombarding you from all corners, it's understandable to feel overwhelmed and unsure where to focus your efforts.
Early-stage coaches often find themselves caught in the 'What do I do first?' trap, leading to procrastination and frustration. When it comes to finding clients, they seem to come sporadically and in ways that are hard to replicate, for example "Someone just reached out to me via Facebook and they turned out to be a customer!"
The key thing to focus on with finding clients is a having a couple of things that you are really good at and build a system around this thing. This is important because it allows you to have a multi step sequence that you can get consistency from. Plus, once this works, you can improve each step to get better results.
There's a secret weapon that many successful coaches wield to grow their business.
Events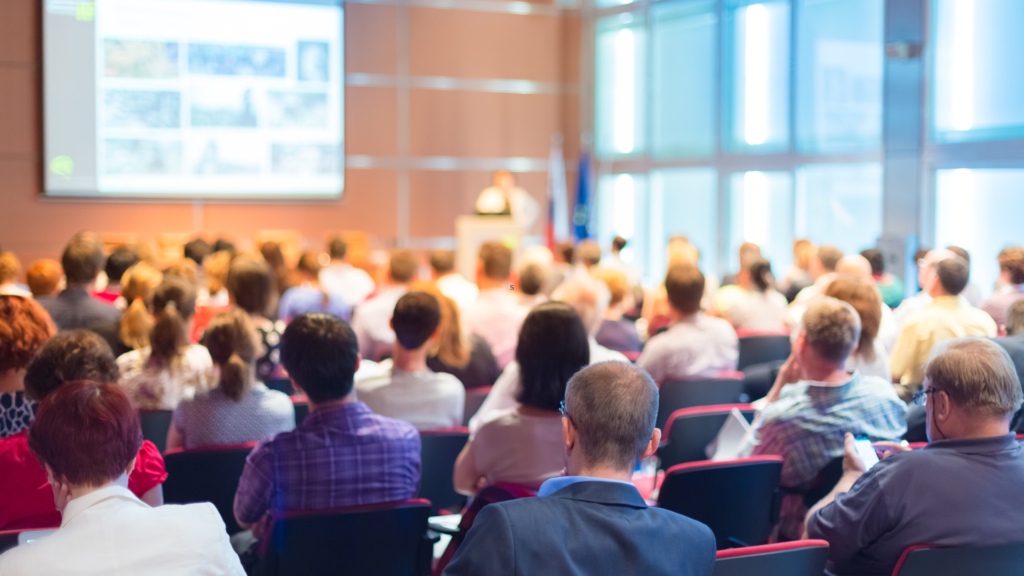 The Power of Events:
Speaking at and running events offers a unique opportunity to connect with a large audience, establish your expertise, and attract potential clients. It's a platform to showcase your passion, knowledge, and ability to transform lives.
Why Events Work:
Events provide a powerful platform for coaches because they:
Value Value Value: People want to get a taste of how you work before committing to signing up to become a client. One of the best ways to do this is get up there, provide some value and show them who you are.
Boost Visibility: Events bring you face-to-face with a large group of potential clients, increasing your visibility and brand recognition.
Scaling. Events can be a HUGE time saver. You don't have the time (and we don't recommend) offering taster sessions to anyone that shows interest. Running an event with 50 people allows you to find the 5-7 people who are ready for change and want to work with you. Spend a couple of hours with them and you' ve got 5-7 calls to follow up with and then 2-3 high chances of customers.
Build Relationships: Events provide opportunities for meaningful interactions with potential clients, fostering trust and rapport.
Generate High-Quality Leads: Events allow you to capture leads and nurture them into paying clients. One of main reason is that you aren't rushing through your sales pitch on a 1-2-1 call. You have 15-30 minutes to go through all the details and (for the right person) an option to purchase. This means that people who then book calls are high-quality because they have seem what you have to offer and they still want to speak.
Types of Events:
The possibilities are endless when it comes to events that can benefit your coaching business. Here are a few options to consider:
Workshops: Organise workshops on specific coaching topics that align with your niche and target audience. Think about what challenges your audience has and create an event for them. The more specific, the better quality your audience will be
External events: Reach out to event organisers and conferences that already have the marketing capability and are bringing an audience to you. You'll need to start small with this but it can cut a lot of the marketing work out for you. Be aware that if you are new, you'll have to demonstrate you can walk the walk, which usually means having a strong online presence.
Tips for Event Success:
To maximize your event success, follow these tips:
Choose the right event: Carefully select events that align with your niche, target audience, and coaching style.
Prepare compelling content: Deliver valuable and engaging content that resonates with your audience and highlights your coaching expertise. Don't worry about giving away high-quality stuff, this is what builds rapport and gets the clients to realise your true value. The marketplace is filled with low-quality content already, so stand out with world class content!
Promote your event: Utilise social media, email marketing, and networking to spread the word about your event. If you want some guidance on marketing, check out our other blog How to Build an Audience of 1000
Don't worry about the numbers: If you are new, your events will have a smaller turnout. This is actually great news, it allows you to do a few things:

Focus on the content and getting it right for when you are running larger events
Work closer with people and have more interaction with the fewer people that show up
It is far easier and less pressured when you run smaller events. Use this as an opportunity to learn and get feedback. After you have done 10 events, the numbers will grow and you will be building confidence every step of the way.

Follow up with attendees: After the event, follow up with attendees to nurture relationships and convert leads into clients.
Remember
Remember, events are not just about promoting your services; they're about connecting with people, sharing your passion, and making a positive impact. So, relax, have fun, and let your personality shine through!
Events are a powerful tool for coaches to attract clients, grow their business, and make a lasting impact. By strategically selecting events, delivering valuable content, and building genuine connections, you can transform events into a client-generating machine. So, step out of your comfort zone, embrace the power of events, and watch your coaching business flourish!
If you're ready to overcome your limiting beliefs and become a successful coach, I encourage you to attend one of our 1-Day Coaching Diplomas to start your coaching journey. It'll help you to develop a plan to achieve your goals and build a successful coaching business. You can also find our beginners guide to becoming a coach here.